The first page of the BWF's world rankings lists the Top10 players/pairs in each discipline. As well as their ranking, their nationality, name, BWF members' ID, total current total of points and the number of tournaments in which they have successfully won points in the last 12 months are shown.
If you want to check on a list of players lower than the Top 10, click on "More" on the table. If you want to view detailed information about a particular player (results in various tournaments, match details) click on "Profile" next to members' ID.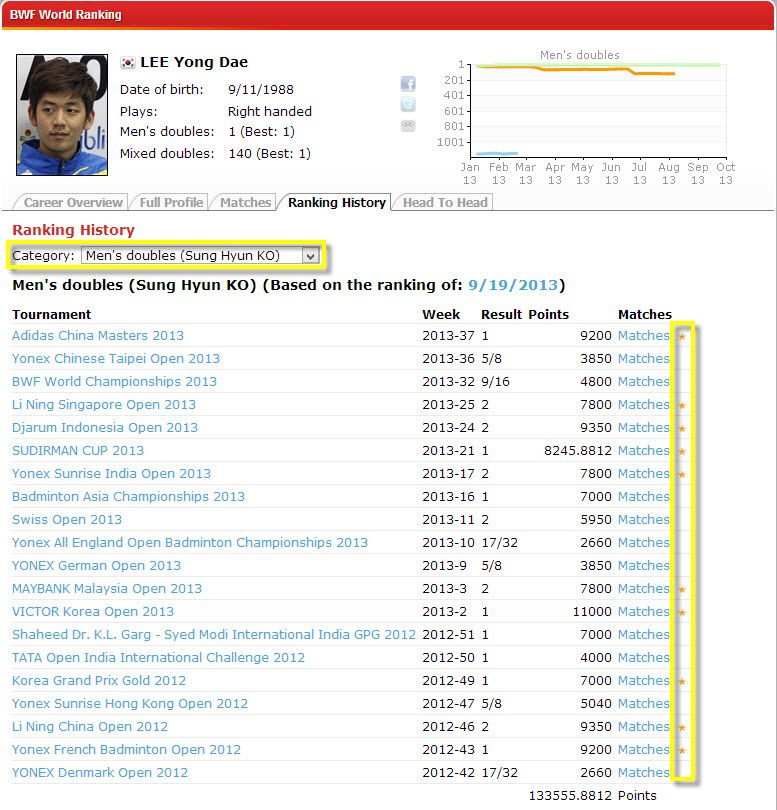 Fig. 2 Detailed points information for ROK player
Lee Yong Dae
(image taken from the official BWF website on Sept. 26, 2013)
In Ranking History we can find out details of the tournaments a player has played in and points received. As a player might take part in two or more disciplines, (such as men's doubles, mixed doubles) or play with a different teammate as partner (example: Lee Yong Dae partnered Jung Jae Sung in 2012, in 2013 his partner is Ko Sung Hyun,) you can select a specific discipline/combination to view information about the corresponding individuals.
The points from the 10 tournaments in which the highest number of points were won by a player/pair in the previous year are added together
The principle according to which BWF points are calculated is: The points from the 10 tournaments in which a player/pair won the highest number of points in the previous year are added together.
In Fig. 2 it can be seen that Lee Yong Dae has taken part in 20 international tournaments with partner Ko in the last year, winning 2660~11000 points in each. The total of all points won is 133555.8812 but the BWF only counts the ten events at which the highest number of points were won (marked with * after Matches,) giving a total of 86745.8812.
The higher the tournament level, the greater the number of points the winners gets!
BWF tournaments are divided into four levels. For details of how these are graded see the article: BWF tournament grading introduction. In principle, the higher the level of the tournament is the greater the number of points the "champion" will win and the further a player/pair progress in a tournament they more points they win.
The tables below show the number of points that can be won in Grand Prix, Grand Prix Gold, Super Series, and Super Series Premier major international tournaments.
Number of Points
Tournament Level
Super Series Premier
Super Series
Championship
11,000
9,200
Runner-up
9,350
7,800
Semi-Finalists
7,700
6,420
Quarter-finalists
6,050
5,040
2nd Round
4,320
3,600
1st Round
2,660
2,220
Qualifying-final Round
1,060
880
Qualifying-1st Round
520
430
Number of Points
Tournament Level
Grand Prix Gold
Grand Prix
Championship
7,000
5,000
Runner-up
5,950
4,250
Semi-finalists
4,900
3,500
Quarter-finalists
3,850
2,750
Last 16
2,720
1,920
Last 32
1,670
1,170
Last 64
660
460
Last 128
320
220
Last 256
130
90
Last 512
60
40
Last 1024
30
25
Basically, points are received by all players who successfully enter a tournament, even ones who are knocked out at the qualifying stage, however, as the BWF only counts the ten tournaments in which most points were won in the previous year it doesn't mean that a player has a chance of being World No. 1 just by entering every tournament.
World Top 10 players will usually select 10-20 inernational tournaments to play in in a year as they can win more points for reaching the semifinal stage in selected tournaments than the winner of a lower level tournament wins.
VICTOR's monthly new world rankings report
After learning about the BWF rankings and points calculation methods we suggest everyone regularly check the Latest world rankings report on the official VICTOR website. This will have the list of the new Top 10 players/pairs as well as reviewing and reporting the highlights of the large international tournaments of the previous month. Read regularly every month and you won't miss any important international badminton news!