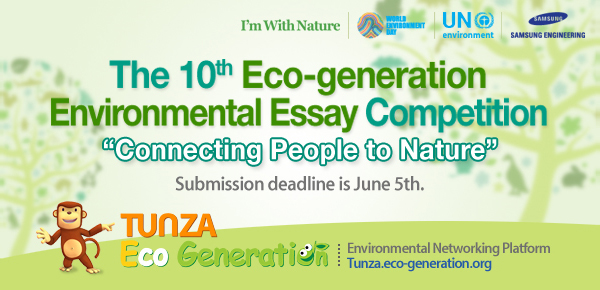 Samsung Engineering jointly with UN Environment would like to launch "The 10th Eco-generation Environmental Essay Competition" inviting the youth all over the world to raise awareness on the theme of the upcoming World Environment Day – Connecting People to Nature.
To commemorate WED and its annual theme, Eco-generation would like to celebrate the bigger and better WED than ever and to call on Tunza Eco-generation members around the world to show their love and affection for our shared natural world with an environmental essay.
We would like to provide children and youth a chance to show their love and affection for our shared natural world by writing an essay on the value of nature. It also aims to collect inspiring and creative ideas on how we can rediscover the value of nature from the young people by requiring them to think about the importance of the nature and its value for connecting people to our mother nature.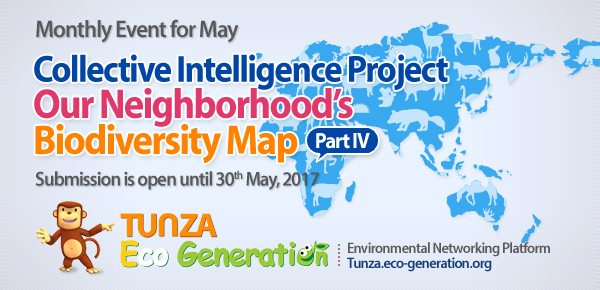 May 22nd is the international day for biological diversity.
Every year, Eco-generation has commemorated this day with our monthly event to make our own biodiversity map. In this year, we want to list up more endangered species in the continent as follows
- North America
- South America
- Europe
If you visit 2016 Our Neighborhood's Biodiversity Map, we can find out the lists of these areas are empty. Please fill out more species in our 2017 Our Neighborhood's Biodiversity Map.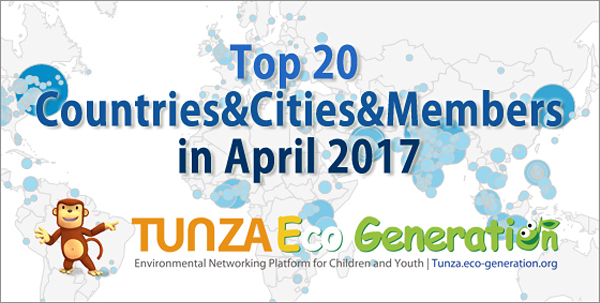 To make it fun to announce this monthly visitors' status, we would like to create a monthly theme. What would you like to know about the TE visitors' status? For example; How about the full list of the monthly visitors? Then you can find your counties and cities on that list! How about continental comparison? Does it sound fun? Please leave us a comment then we'll try to make it happen.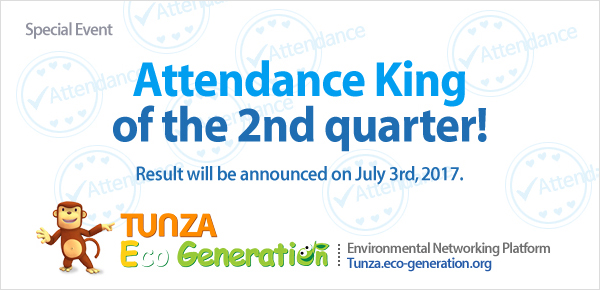 As you know, we have Attendance checker on our profile page. Once you sign in, you can open the attendance checker and get some points. We will give out the TOP THREE members who win the biggest points during the 2nd quarter (April, May, June in total) a special gift box! Please sign in and check your attendance to get the points as often as possible. You can check in once a day! :)
Hope you enjoy it!!!


WWF The Generation Green 2017
by

Prakriti Dhakal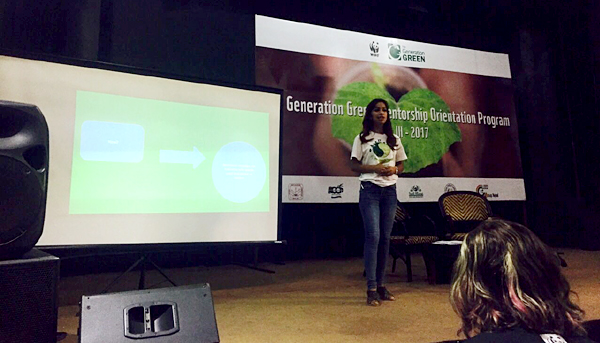 Earth hour!!!
Mentorship is simply learning from the mistakes and mastery of a successful person in his/her field.
It's my great honor to attain a wonderful mentorship program where i got an opportunity to work with the great personalities working for environment. Tons of thanks to my inspirer Ambassador SuJan Adhikery for letting me know about WWF and The event organizer Sikha Mam who helped me to be there.
TGG has completed two batches of mentorship program, each lasting for a period of six months. The program has progressed with 165 Mentees with 16 mentors on board. Since its inception in 2014, the program has adapted to learning by doing approach and has consequently evolved to a more mentor led youth focused, action oriented engagement initiatives.

Earth Hour Report and my views on Energy Conservation
by

Aaditya Singh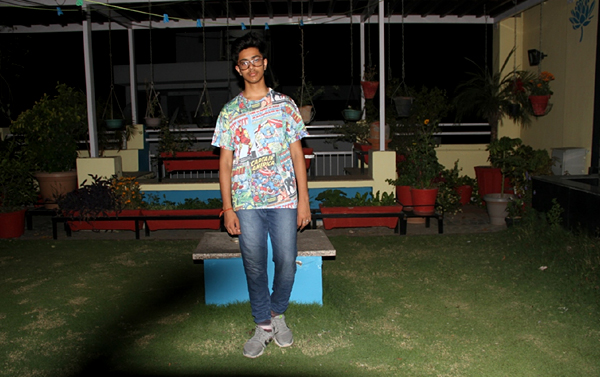 For the past few years I have been participating in Earth Hour either at a personal level or in community events. The worldwide movement organized by the World Wide Fund for Nature (WWF) aims to encourage individuals, communities, households and businesses to turn off their non-essential lights for one hour, from 8:30 to 9:30 p.m. on the last Saturday of March, as a symbol for their commitment to the planet. The idea is to spread awareness towards conservation of energy.

This year Earth Hour was observed on 25th March 2017. Coincidently, I travelled that day to India and reached my grandfather?s apartment in the evening, just a half an hour before the scheduled Earth hour time of 8:30PM. To my pleasant surprise, my 85 year old grandfather told me to freshen up quickly as he was going to switch off the lights shortly. It was reassuring to know that young and old, all are getting aware of the burning issue of conserving energy and taking steps to bring about a change.

My grandfather lives in a 4 storey apartment building. He has taken a lot of effort to create a garden on the rooftop of this building. We spent the Earth hour lounging in his rooftop garden in dim aura of solar lights. It was a surreal experience that I would love to relive anytime. The rustling of leaves in the gentle breeze and the dim starlit night, added to the feeling of satisfaction that came from celebrating Earth hour with my grandpa!

From Organic Balcony Garden to Kitchen
by

Rohan Kapur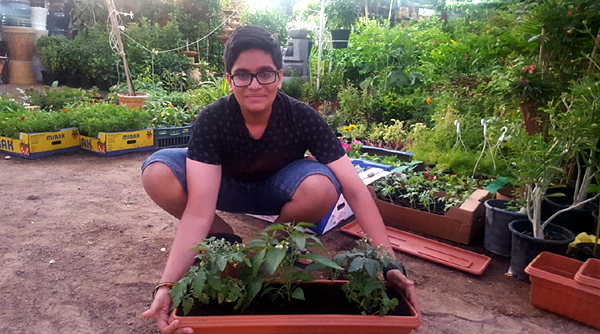 I am so close to nature, at heart, that I avail all opportunities to appreciate & treasure the natural plants, flowers & fruits. I plant trees, keep planters at home & now I have developed a small organic garden on the balcony of my house.

Since past many years I have kept flowering & medicinal plants at home and last year I decided to maintain a small organic garden as well. This has turned out to be very interesting & fruit bearing initiative. These small plants are giving us Basil, Baby Tomatoes, Chillies and mint leaves regularly. And as icing on the cake I have made sure to keep these plants organic, therefore no pesticides & other harmful chemicals are used.


Every Day is Earth Day
by

Dharmendra Kapri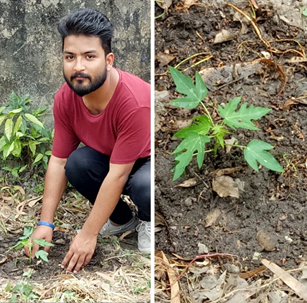 On 22 April 2017, I along with my teacher Mr. Narendra Singh Rautela organized a workshop for school students and teachers based on "Role of the teachers and Students in Environment Conservation" which was attended by 22 teachers and more than 100 students. During the workshop we discussed various topics like- Role of teachers in environment conservation, Environment Education (EE) and Education for Sustainable Development (ESD), Project Based Learning (PBL), Benefit of doing EE through Project Based Learning and Process of facilitating EE for students etc.